Preschool Craft Activities:
Glove Card Craft
Preschool craft activities are a great way to teach basic skills. This winter art activity will also beat the winter blahs. My little one and I love crafting. She begs to "do art". She also loves drawing her hand. This preschool art activity lets her do two things she loves.
Remember to keep it simple when deciding on craft activities for your preschooler. The more involved a project is the more you will have to guide and the less chance your little one will have to be creative. Of course, some art activities for preschoolers are more involved, just try to not focus on those activities as much as the simpler ones.
This activity is one of those simple ones. We began by tracing my daughter's hand on white paper. I cut out the glove because at 2 and 1/2 she's not quite to that point yet. Your child maybe able to cut out their own glove. Just let them do what they can.
We counted fingers to bring in pre-math skills. She decorated her glove. I gave her several decorating items and she went to town.
Then we talked about colors and she picked out a color of construction paper for her card. I glued the glove hand-over-hand with her because there were so many edges to glue down.
We wrote HAPPY WINTER hand-over-hand and then read what it said. She decorated the outside of her card and then the inside.
So with this one activity, I was able to incorporate color recognition, math skills, reading skills.
Remember let your preschooler participate as much as possible. This helps them develop creativity and problem solving skills. As you can see, our glove card project picture is mainly what my 2 1/2 year-old produced aside from tracing and cutting. Most of our project pictures are child produced so you have a better idea of what to expect.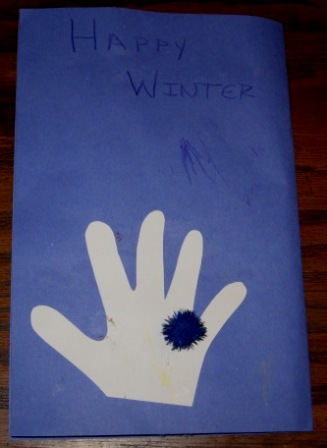 What you need:
1. Construction paper
2. Pen or marker
3. Glue stick
4. Embellishments (markers, crayons, stickers, whatever is handy)
5. Scissors


What you do:
1. Trace child's hand on construction paper
2. Cut out glove shape
3. Decorate glove
4. Fold other piece of construction paper in half
5. Glue glove on front of card
6. Decorate front and inside of card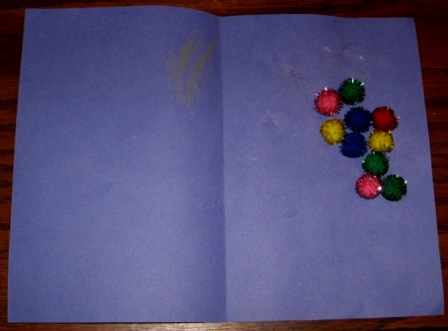 Tips for teaching:
1. Talk about the difference between mittens and gloves
2. Count fingers
3. Talk about when you wear gloves
4. Talk about winter clothes vs. summer clothes (long sleeves, short sleeves, shorts, pants, sweatshirts, t-shirts, etc.)



Enjoying Fun Preschool Activities...Consider subscribing to our E-Zine. Recieve subscriber only information and ideas along with updates to our website right in your in box. Don't miss another issue. Subscribe Now.



Return to Fun Winter Activities from Preschool Craft Activities


Return to Fun Winter Activities from Preschool Craft Activities
---