Preschool Arts and Crafts
Snow Name Activity
Preschool arts and crafts activities are a great way to enhance learning and have a blast. This snow name activity offers a multitude of ways to enrich your child's language skills, pre-reading skills, basic concepts and fine motor skills.
We have a great time making toddler crafts and this one was no exception. My daughter loves crafting and I found out she loves cotton balls. If you're looking for art lesson plans that span the curriculum this one is great.
We targeted colors by talking about the different colors of paper. She then picked out the color she wanted to use.
We went hand-over-hand to write my little one's name. This targeted fine motor skills as well as pre-reading because we discussed the letters in her name and then read her name. Recognizing familiar words like a child's own name, stores, frequented restaurants is an important reading readiness skill.
To target language skills and basic concepts, we talked about snow; how it melts, the color, that it was cold. Then we talked about cotton balls; that they were soft, the color. We did this while there was snow on the ground so it was easy for my daughter to experience snow. If you do not have snow in your area, you can find pictures of snow then use an ice cube to demonstrate cold and melting. We also worked on counting skills by counting cotton balls.
After comparing cotton and snow, we again went hand-over-hand to glue. Then my toddler was able to place the cotton balls on the glue.
Remember let your preschooler participate as much as possible. This helps them develop creativity and problem solving skills. I guided a little more on this project so the letters would come out looking like letters. So this project picture is a combination of adult guidance and toddler creativity.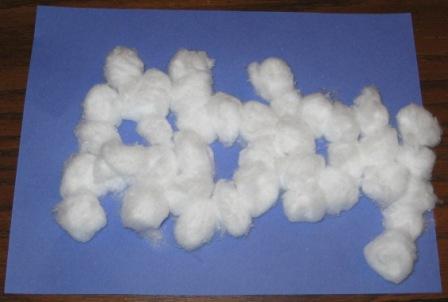 What you need:
1. Marker or pen
2. Construction paper
3. Glue stick
4. Cotton balls


What you do:
1. Write child's name on construction paper
2. Glue over name
3. Place cotton balls on glue
4. Let dry


Teaching Tips
1. Talk about basic concepts: soft, cold, melting
2. Talk about the color white: find things around the house that are white
3. Talk about the letters in your child's name: have them find the first letter of their name in a favorite story book


Enjoying Fun Preschool Activities...Consider subscribing to our E-Zine. Subscriber only information and ideas along with updates to our website right in your in box. Don't miss another issue. Subscribe Now.



Return to Fun Preschool Activities from Preschool Arts and Crafts
Return to Fun Winter Activities from Preschool Arts and Crafts
---